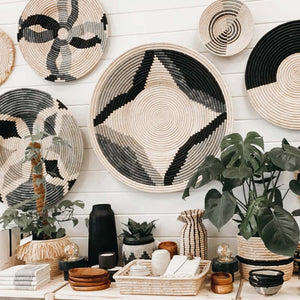 Bringing you the best in show, in person & virtually.
Book a Virtual Kazi Trade Show
Join us virtually to tour Kazi's collections as in person as they get aside from a trade show. Our products are sure to "wow" you and make it worth your time.
We will walk you through our mission, you'll learn about the makers and origin, and see color and size in "real life" with no pressure to make a purchase now.
Book a tradeshow meeting now
Why book a virtual trade show meeting?
No strings attached
Meet with one of our Kazi team members and learn about best sellers, how best to merchandise and what's new, with no pressure to buy
No travel required
Trade shows and travel are expensive for us all and a drain on resources, no travel is needed, shop from the comfort of your couch! 
Promotions offered
We don't have to pay expensive booth fees to see you, and we can get orders out early to artisans, meaning we can pass on savings and benefits to you.
Upcoming In-Person Trade Shows We're Attending
January 2024: Maison Object

May 2024: National Restaurant Association
Interested in Setting a Virtual Trade Show Appointment?
Reach out and our team will be in touch.