Purposeful Production
Hand Woven by African Artisans Who Choose Sustainable Fair Wage Employment
Your wall statement pieces are crafted using age-old methods from an expert weaver, whose fair wages then circulate in her community. This is how we as a family, and company, create lasting economic impact in Africa, and beauty at home.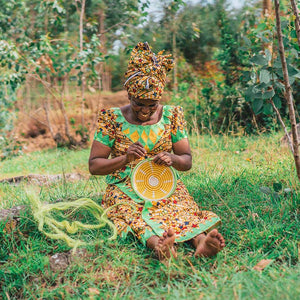 It starts with design
Our global team of designers work together with our African artisans to plan beautiful statements designed to fit in modern, thoughtfully styled homes.
Restorative Greens
Resilient Earth Tones
Coastal Blues
Transportive Seascapes
Bold Black & White
Definitive Modern
Blossoming Pastels
Welcoming Familiarity
Blissful Brights
Bursting Vitality
Ambient Blue-Greens
Calming Lucid Dreams
Captivating Contrast
Attractive Opposites in Balance
Relaxing Neutrals
Texture Forward Naturals

Artisans sustainably hand-grow fibers near their homes.
Naturally Sustainable Materials
We exclusively use responsibly harvested local materials like raffia, elephant grass and sisal when weaving our wall statement pieces, and every color you see is drawn from organic natural dyes. This eco-protective process brings organic living at home, and peace of mind at heart.
Early on in their careers, our weavers learn how to grow and harvest their own materials. That way, once they advance their weaving skills and save up enough money, they can employ people in their communities to help harvest the fibers on their behalf as they weave. It is part of our business model to teach our artisans to experience accountability in the supply chain because it empowers them to be independent. 
Harvesting & Material Processing is Labor-Intensive
Weaving
Artisans work in collective groups, or weave at home, where they can stay with their children.
Women for hundreds of years have taught their daughters this age-old weaving process.
To create shape, artisans tightly wind fibers and secure them with tiny stitches, gradually generating shapes and patterns as they work.
The piece takes form, eventually reaching its final shape, robust with skill, love and artistry.
The finished basket is breathtaking.
The completed basket... is a labor of love, a testament to skill and a piece of art.
Kazi means work (in Swahili).
That's what we create: works of art, that provide steady work, for artisans. Our designs generate a fair and stable wage for expert artisans, making lasting economic impact in their communities.