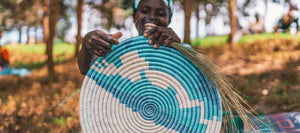 Bring Your Designs
to Life with Kazi
Create a Custom Assortment
We can help make your new unique product vision come to life.
Our direct working relationship with the artisans paired with strong talent in the US and Europe gives us a trusted skillset to create new, customized products quickly - ensuring quality and timely delivery for you, our trusted partner, every time.
We Can Customize...
Color
With more than 300 Pantone color matched dyes across three country, we're sure to hit color on the mark with each and every hand dyed batch
Shape
From bowls to cylinder vases to unique and artistic forms, our talented mastercraftsmen are skilled and ready for building new or existing shapes.
Material
While we're experts in natural fibers, that doesn't limit us to a range of sources, colors, textures and price points with more than 10 core materials in our range.
Get Started in 3 Easy Steps
Vision
Dream big!  Send us your inspiration and vision with as much detail in the form below so we are sure to hit it on the mark.
Approval
Our design team will turn your vision into reality by creating specs for your review and approval.
Sample
This is where the magic happens!  Artisans read the specs and create your vision with natural fibers and their own hands.
50
Minimum
Quantity
4-14 Weeks
Delivery time from start to finish
Quality Guarantee
Color, construction, shape
Testimonials
Ethan Allen
"We've gotten a great response towards the baskets and they have exceeded our expectations!"
Shawn Lang, Director
Ellen Kyle
"The baskets we developed with your KAZI are stunning and the construction is excellent. Thank you for all your help with this project!"
Farmgirl Flowers, San Francisco
J. Banks
"The baskets turned out amazing, everyone loves them!"
Commercial Staff Designer
Many of our partners like using our label or brand to build credibility. With our Nest Seal, your customers and the public can be confident in the transparent working relationship with artisans that assures fair wages paid, no children in the workforce, and traceable materials and supply chain.
Other partners like to use us as a source of product development for their brand, and the artisan's products are privately labeled or white-labeled. We're happy to share the artisan profiles of the men and women who made your products—along with the impact stories. You'll still have permission to use the information on your website and tag about the source and impact provided, you can just do it under your brand.


The minimum order is $200.00 wholesale or $400.00 retail. Currently, once you start adding products to your cart, Shopify will trigger a $400.00 minimum order.  This is a technical glitch within the system. Once you reach $200.00 wholesale in your cart, the notification will go away. Our apologies for the inconvenience. 
Final payment is due upon shipment from our warehouse. This helps us keep a lean team and continue to serve artisans efficiently.  We do offer Afterpay, allowing you to access credit for 6 weeks and pay your balance over the course of 3 payments at 0% interest to you. 
Out-of-stock items can be made-to-order from artisans in minimum quantities of 10, with a total order size of $600. Contact your Account Manager, or reach out to hello@kazigoods.com for more information on the timing and process for out-of-stock or custom orders. 
We accept returns within 30 days of purchase in their original condition with their original tags.  Damaged or defective products will be refunded or new products resent, whichever you prefer.  Refunds are processed regularly and you should see your refund hit your account 3-7 business days after we receive the returned products.
Products that you choose to return based on preference, will be subject to shipping charges and a $5 restocking fee per item. 
If vase inserts arrive broken, we will refund you the cost of the vase insert, $1, but will not be able to safely replace the inserts. They can be found at your local Dollar Tree store or online at Dollar Tree.
We stand behind our artisans' handmade quality.  You will too once you get it in your hands! 
It might have some small quirks, imperfections or variations, but if it does not meet your needs or expectations, please contact us and we will work to make it right.